2013 BLPA Boat Parade a Complete Success!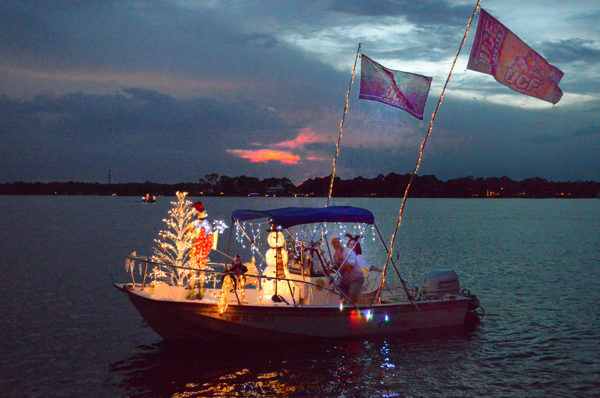 On December 14, 2013, family and friends gathered at their docks, shorelines, and windows with lakeside views as those boating enjoyed the many decorated yards, docks and boats as they made their way around Bear Lake. Taking the boat prize was the *Bundy family: In honor of UCF's successful football season, the alumni created "A UCF Winter Wonderland," complete with a Golden Knight with Santa Hat holding the Christmas Tree topper, Christmas Tree, Rudolf the Red Nose Reindeer with Santa riding on his back, and a Snowman. The bottom of the boat was complete with glistening snow and the boat was decorated with many lights and icicles. Two UCF Flags with lit-up flag poles flying high and proud over the boat. A few Chinese Lanterns were sent off from the boat to close the season and start a new year!

At dusk, the megaphone and siren brought attention to the 10 boats participating in the 2013 Boat Parade. Many family, friends, and neighbors cheered as the boats went by wishing everyone holiday fun. An unexpected soaking rain caused a few boats without shelter to drop out of the parade early. Fortunately, it was not before the judging was complete, so rain and all, the parade continued with those with their Bimini tops sheltering them from the rain. We were fortunate to have warm weather so the kids in bathing suits did not mind the rain!
            Taking the dock/yard prize was *The Susan Burton family: Susan described her dock as "The Zoo," complete with a display of various birds and animal decorations, which included Rudolph on top of the boathouse – very neatly done (according to the judge)!
Participants in the 2013 BLPA Boat Parade:
Jon and Rika Albert and Remo and Monique Eyal Families 
Michael and Margaret Bundy Best Boat Winners
Jim and Nancy Dunn/ Bob Shields
Michael and Kathy Flanagan
John and Sue Parker
Brenda and Gary Vallancourt
The Bass family
Maria and Donald Zondervan
David and Maryann Brown
Brian Allen and friends
Susan Burton Family Best Yard and Dock Winners
Thank you to all who participated making the 2013 Boat Parade a complete success. We look forward to a Happy New Year with all our BLPA family, friends, and neighbors.
Click on the link to our photos and enjoy the parade!
https://skydrive.live.com/?cid=c73953bd508dfece&id=C73953BD508DFECE!152